Please does anybody know if it is possible to copy more recipients while replying a message from the inbox of conversation. if yes, How do i go about it. I need help please
Customize Groups, Spaces, Courses, Events and all third party groups-based modules. Channels can be customized by website admin.
This module works in a similar way than our Custom Profiles Module https://una.io/page/view-product?id=354
Each group admin can customize their group, changing background photos and colors to make it unique.
When owners add customization to their group they want others to look at it and the chances of sharing their own group on other social media sites/apps goes higher.
The admin can set which fields are allowed, and disable the ones that don't want the users to change.
Features: 
Change background photos
Change text colors
Change buttons colors
Change Icons colors
Change font sizes
Change borders
... all the other settings that your default Theme/Mix has, you can select them for users to customize their groups with those options.
This Module is using the default upload forms and allows images only, it doesn't allow videos, it doesn't allow GIFs.
Compatible with UNA 11, UNA 12, 13 and over.
This is an amazing feature for your dating site or social network, customizing their own group, event, space or course makes visitors and joined people feel they are in real community with common interests.
Important: This module gets the default values from the theme or mix that the user has selected once they click on save, it only saves the fields that were changed. If they didn't select a mix or theme before making changes, the default values are the ones from the default theme installed in your website. We recommend you to enable only one mix from one theme so users don't get confused on why they can't change some parts of their group.
Group owners can customize their own Groups
Events owners can customize their own Events
Courses owners can customize their own Courses
Spaces owners can customize their own Space
CHANGELOG:
Version 1.0.5 - November 13, 2022
UNA 13 Beta 4 and below compatible
Version 1.0.4 - May 17, 2022
Fixed blank page in some group profiles
UNA 13 Alpha 3 Compatible
Version 1.0.3 - March 09, 2022
Fixed background options for Lucid template.
Version 1.0.2 - February 27, 2022
Added compatibility with Artificer template
When artificer is selected by user or as default by admin, there is only basic settings to customize.
Version 1.0.1
Added compatibility with UNA 13
#Groups example: (Gaming Group)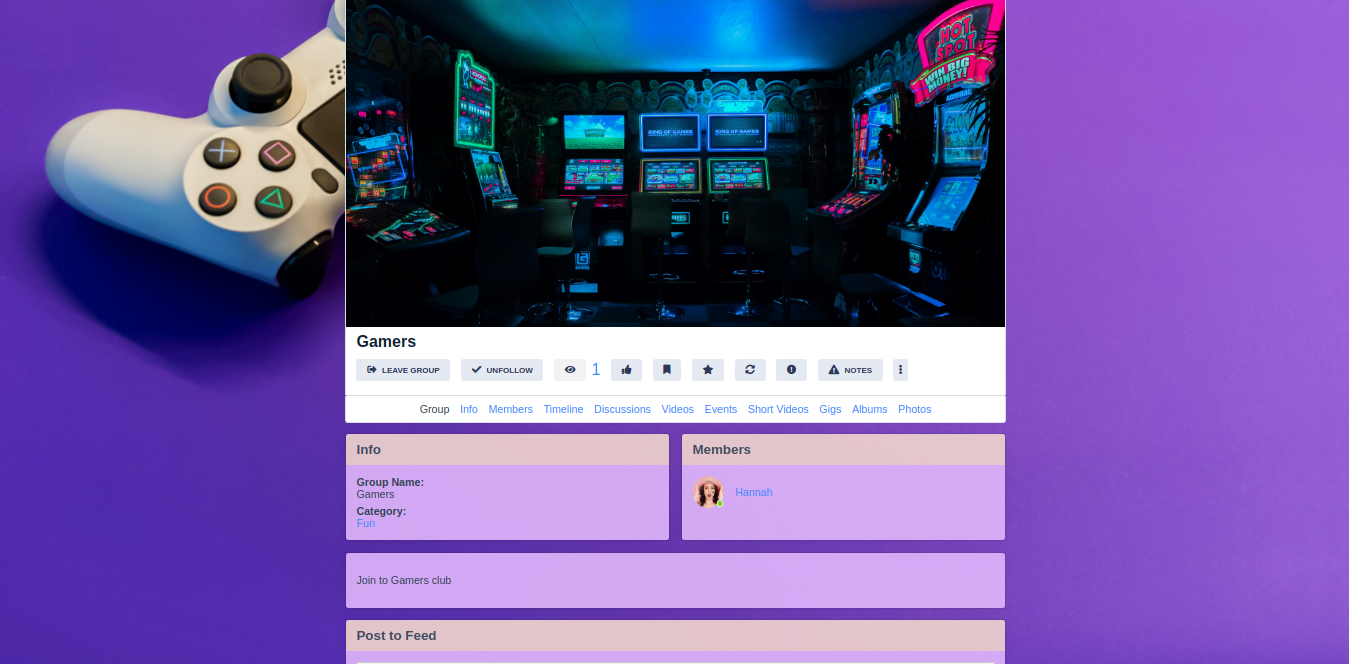 Event Example: (Music Fest)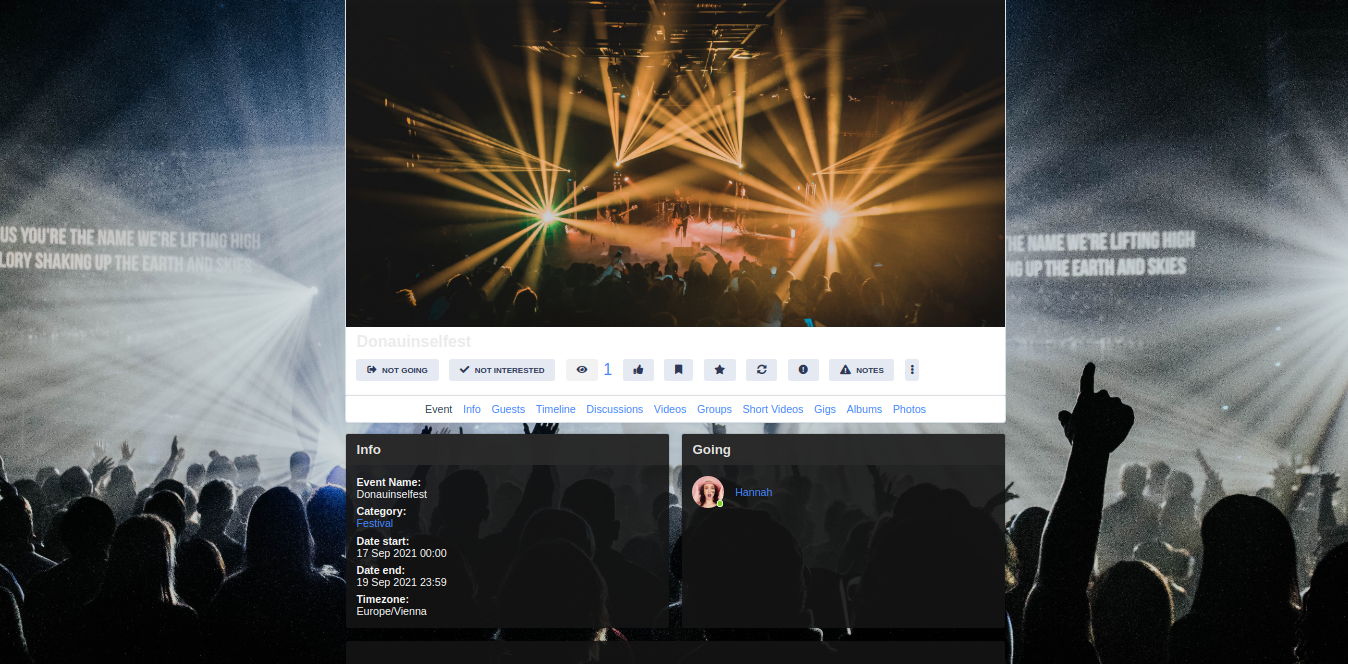 Courses Example: (Programming lessons)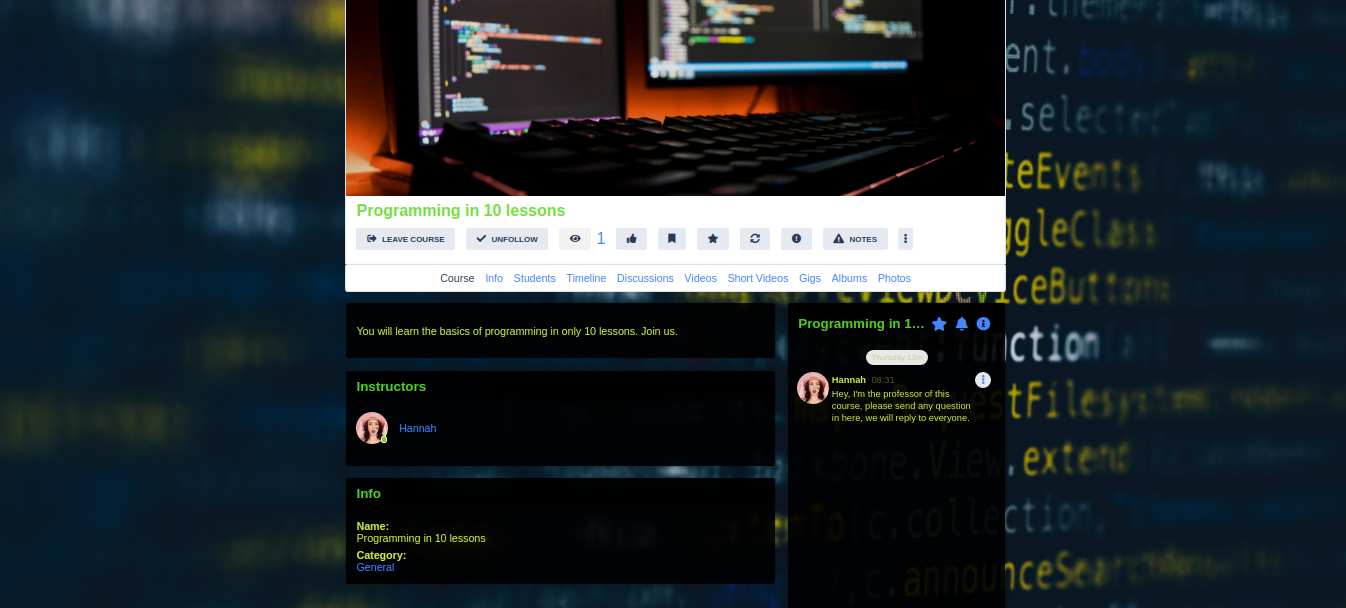 Group Example: (Soccer Sport)
Group Example (Buy and Sell)