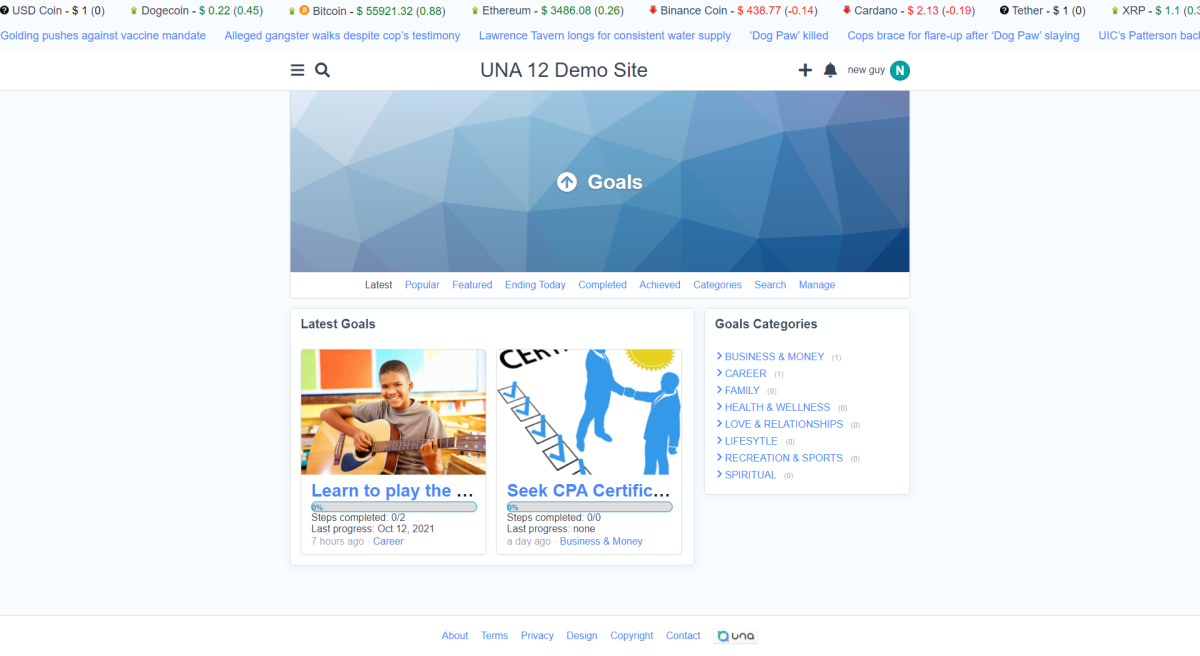 People have known for years that making a list of goals is the best way to achieve them. But most persons never get around to making a list. This interesting, motivational module allows your Site Members to set Goals for themselves, share with their friends, and track their progress.
A posted goal will have the following components :
Details of the Goal (eg. play the guitar)
Already attained at the start (eg. I know some chords)
What you desire to attain (eg. Be able to sing and play songs)
A list of steps needed to complete the goal
GOAL TASKS
Members can create an unlimited number of tasks that need to be fulfilled in order to attain a goal.
For each task, details of what needs to be accomplished is outlined and specific start and end dates are set.
Task progress is tracked as upcoming, ongoing, outstanding, completed or failed.
Goals can be flagged as achieved when all tasks are completed.
Task reminder - member can schedule to get a reminder message at a specified time before a task is scheduled to start or a specified time after a task is due to be completed.
DONATIONS
The Goal creator can choose to accept donations as part of the means to help attain the Goal
SPONSORS
The Goal creator can list details or individuals, groups or companies that have assisted them in fulfilling steps of their Goal.
SUPPORTERS
Members can join a Goal as a supporter even if they are not sponsoring.
BLOG POSTING
The Goal creator can post blogs on their Goals that outline their day-to-day challenges, obstacles, and achievements in their quest to fulfill goal tasks.
===========================================
DEMO:  http://una.dolphinmods.com/page/goal-home
===========================================
You can view my full list of mods at https://una.io/page/products-author?profile_id=200